Special Offer for Veterans!
We would like to extend a SPECIAL Veterans Day Discount to you and any family members who claim their savings certificate today and redeem it by the end of November.
Sign Up Now to Receive:
$300 Savings Certificate
Printable Veterans' Burial Benefits Checklist
Whether your service was during war or peace, you and each member of your family may take this easy step to receive a special Veterans Day Discount on funerals or cremations as well as our Veterans Burial Benefits Checklist.
You Protected our Freedom.
Let Us Protect Your Family.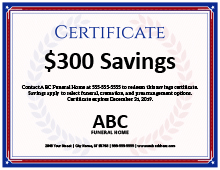 Enter your information below to claim your certificate and get started with a prearrangement plan.